Why join the Independent Dentist Network?
For many of our members, the overwhelming reason to join the IDN is to establish a viable, genuine independence from the big insurers and put a stop to their attempts to redirect existing patients to their fund preferred provider network.
These insurers are paying their members who are your loyal patient less and less for the claims submitted services.
If you are a preferred provider the funds are reducing contract fees plus, they are becoming increasingly prescriptive about the services you can offer and the prices you can charge.
IDN members want to be able to stand strong and stand proud without being told what to do by big business, that care more about profits than patients.
In addition to taking a stand, there are a number of other practical benefits of membership as follows.
Presenting as true Health Professional focused on patient's long-term care and preventative dentistry.
Trustworthy and working to a code of ethics.
Benefit of IDN Membership of International Further Education service with over 1000 free courses relevant to practice staff improving their careers.
Benefit of improved recruitment tools to identify A Team potential dentist and employees via International Psychometric Consultancy Service.
25% discount for new memberships for the first quarter to Dental Innovations.
Access to expert Brand and Digital Marketing companies that are delivering
results and saving advertising dollars.
Genuine discounts from quality service providers.
Introduction of services to streamline your practice operations.

Value $2,000 Marketing
A listing in the IDN practice location directory where consumers can search for their nearest IDN dentist. This will include a direct link to your practice web site URL.  
A licence to use the IDN logo and branding for your own practice marketing material.
Identification of your practice with the IDN national brand promoting that Independent Practices are free from Health Insurance and Corporate control. "Driven by care – not by profit."
Access to a growing range of quality prepared marketing material including co-branded stationery and promotional collateral at heavily discounted rates.
Access to a range of professionally created marketing campaign suites including posters, flyers, digital ads, and other marketing collateral. This material can assist with promotion of dental services and raising patient awareness to deficiencies in Health Fund Insurance encouraging them to switch their fund to a non-preferred provider such as HIF.
Value $2,000
Securing Your Patient Base
Access to a negotiated deal with a non-preferred provider health fund to assist your patients to obtain full fund benefits and reduce health insurance influence in your practice.
All prepared marketing materials and advertising templates can at your discretion be customised to individual practice preference on a minimal fee for service basis by a dedicated, contracted marketing company.
The opportunity to offer your patients special loyalty packages and tools to promote patient dental plans within your practice allowing personalised treatment delivering optimal value for patients through a range of practice plan options.
Value $2,000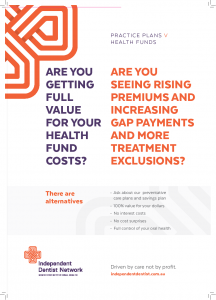 Cost Savings
Concessional membership to Dental Innovations, Australia's largest dentist buying group which provides clear savings for its members. There are over 60 dental related services including consumables, clinical equipment, insurance, merchant fees and more (proven to be cash flow positive).
Concession :Value $500
Individual Practice Marketing
Access to the expertise and guidance of two leading marketing companies working exclusively with IDN. Services include :
 Internet and Social Media marketing including analysis of your marketing expenditure to identify the best rate of return.
Access to dental specialist marketing company that will guide and develop your individual practice marketing plan. Includes optional access to a 1 hour complimentary marketing strategy session with an experienced marketing consultant in the dental arena.
Value $1,000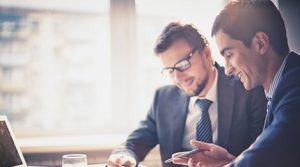 Total Value: $7,500pa
IDN membership fee: $1500 per practice (exc GST)